About the Photographer
It began with an epiphany:
"Standing on the side of the 18th green at the Old Course at St. Andrews, with the sunlight drenching the Royal & Ancient clubhouse, and the light illuminating the green I decided to follow my passion for golf with my love of photos by marrying the two together."
---
Featured in THE CUT- Golf & Leisure Magazine in New Zealand - click for pdf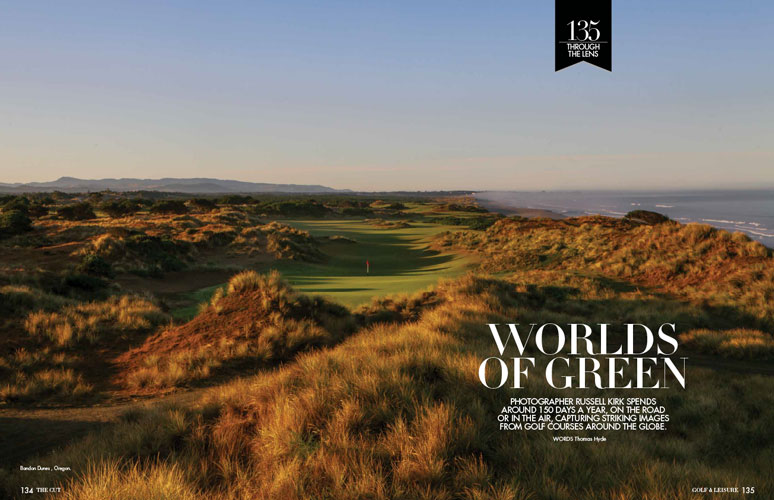 ---
BIOGRAPHY
World renowed golf course photographer Russell Kirk brings his personal passion for golf to his photographs. Having achieved a successful career as an advertising photographer in New York producing award winning campaigns for clients such as, A.T.&T., IBM, Rolex, Hallmark, Kodak, Pentax, Textron, EZ-GO, Visa and American Express, Kirk decided to merge his vocation and avocation.
Before long he was one of the premier golf course photographers in the world.
His images have been seen in Links Magazine, Golf Magazine, Golf Digest, American Express Golf & Travel, The Golfer, The U.S. Open Journal and The Ryder Cup Journal.
Kirk's images have moreover been featured in Planet Golf, Golf Architecture, 365 Days of Golf, Fairways and Golf Course of the U.S. Open.
Kirk has spent the last twenty years creating a portfolio of courses such as The Old Course at St. Andrews, Shinnecock Hills, Southern Hills Country Club, Merion Golf Club, Medinah Country Club and many other championship courses.
The Atlanta based Kirk works closely with many of the top golf course designers, courses and resorts to capture images reflecting the beauty and subtle nuances of the world's most coveted courses. "Photography and golf enable me to travel the world seeing courses and places that I might never have seen", says Kirk. "No matter how long I photograph golf courses, the beauty and the allure of the courses will never be lost on me. I constantly look for the moment."
Kirk's portfolio includes images from courses in 35 states and a total of 320 courses around the world. as such he is sought by private clubs, resorts and golf advertisers.
---
TESTIMONIALS
As a designer of golf courses it is imperative for us to be able to "communicate" our work through photography. It is the only medium that can effectively showcase our projects to clients,members,and the media by capturing the moods, nuances, and beauty of the golf landscape. It has been my pleasure to know and work with Russell Kirk for 20 years & he has been as effective as anyone in delivering consistently fabulous photos of our work. Not only is he able to create lasting images of the beauty, light, shadow, and variety in our golfing landscapes, he moreover does it with the eye of a golfer. So many photographers shoot only with an eye toward capturing the dramatic elements of the moment, yet Russell is able to not only capture those special moments yet to frame them as golfer would see the hole. From a golf course architects perspective this is the most significant element of the work, does it work as golf hole as well as a pretty landscape. when you look at the photographs of Russell Kirk you obtain answers to both questions & that experience to me is invaluable.
- Gil Hanse, Golf Course Architect
As an architect, our business is part technical & part artistic. As such, we're often evaluated on the visual qualities on the courses we build as much as the intrinsic qualities of the playing experience. Russell Kirk has always exhibited a keen ability to capture those all too significant course images of our work in a way that actually transports the viewer. I've always felt that it's one thing to be a satisfactory photographer, yet something entirely different to reproduce highly nuance golf landscapes. I'm talking approximately the sun & sky, color & texture, shadows & frame – along with the ability to understand the architectural qualities of a course. That's why Russell is master of his craft, his ability to produce golf course photos that is truly a work of art.
- Drew Rogers, ASGCA
It is my pleasure to recommend Russell Kirk and Golf Links Photography. Russell has captured the nuances of my work on golf courses ranging from Tennessee and Florida to Oklahoma. I eagerly anticipate each time he is scheduled to shoot a project and his images have transformed my ability to present my company to existing and future clients.
- Bill bergin ASGCA
Russell has photographed our courses for nearly ten years now. His images are remarkable & the attention to detail superb. Russell's ability to frame a picture & then be patient enough to wait for the right conditions & light is what makes the difference as well. the resolution of his images is heads up above others we have seen. I highly recommend you hire Russell.
- Whitney Crouse, Chairman Mosaic Clubs & Resorts
I have worked with many professional photographers over the years & Russell Kirk is right up there with the best of them. We have done many shoots together & every time I work with Russell he always makes me look the best. He seems to obtain the perfect shots, in no time, while making it totally fun. It is always a pleasure to work with Russell & his team.
- Lou Guzzi, PGA Teacher of the Year 2013